Caroline Graham: Man asked to call police over missing teen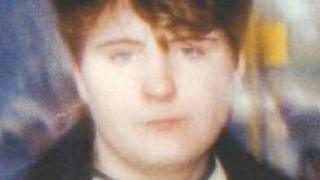 A man who telephoned police about a teenager believed to have been murdered, has been asked to call again.
Caroline Graham, 19, was living with her boyfriend at Hanover Street, in Portadown, County Armagh, when she disappeared in 1989.
The detective leading the investigation said he believed her remains were "somewhere in Portadown".
Detectives have asked the man who called them on Saturday to contact them "as he may have important information".
The caller, who did not leave his name, has been requested to contact police on 028 9070 0727 or 07585 228283.
A PSNI spokesperson said any information received would be treated in the strictest confidence.
The night before she disappeared, Caroline had been for a night out with a girlfriend at the Coach nightclub in Banbridge.
Police believe that after spending part of the night at a hostel with her friend, she returned to Hanover Street where she collected some clothes.
She has not been seen since.
On Thursday, the missing girl's mother, Barbara Graham, issued an appeal for help in finding her daughter.
"All I want is closure," Mrs Graham said.
"I have lived without Caroline for 25 years and the pain has been hard to bear. It is particularly difficult on anniversaries, birthdays and family times like Christmas.
"We haven't even had the chance to hold a funeral because Caroline's body has not been recovered."