New European Commission rules could impact NI jobs growth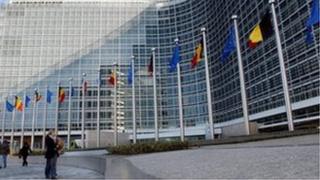 New European Commission rules on financial assistance to large companies could impact on jobs growth in NI.
Invest NI said the changes to regional aid from July 1 will make "the landscape more challenging."
The new rules apply to companies employing more than 250 people and who are already located in NI.
From now on, they may not get public money towards expansion projects if it involves the same activities at the same premises.
Invest NI has just had a record 12 months - promoting 10,800 new jobs.
But the rule changes are one reason why targets for this year have been reduced to 8,000.
However with clarification still being sought around the new regulations, Invest NI said it is "too early to access the full impact".
Some recent jobs announcements have been pushed through to beat the new regime.
For example, US health business CVS Caremark received almost £1m in aid to expand its Belfast operation, creating 100 jobs.
The grant could not have been provided under the new guidelines.
Europe is changing the rules because it was concerned big companies on the continent - particularly in the automotive sector - were getting too much help.
It felt the status quo went against fair competition and value for money.