Ku Klux Klan flag taken down in east Belfast after discussions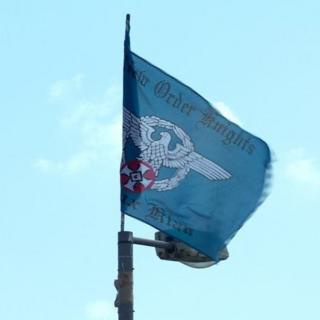 A Ku Klux Klan flag was removed from a lamp-post in east Belfast following discussions with local residents and representatives, police have said.
Naomi Long, Alliance MP for the area, complained to police after the KKK flag was put up at Island Street on Monday. It was taken down a day later.
Police said they would work with local communities to resolve flag disputes.
Northern Ireland First Minister Peter Robinson said the flag was "grossly offensive".
He said putting it up was an "intimidatory act".
'Sinister edge'
"It is dreadful that some idiot doing this has the impact of people suggesting this might have local support," said the DUP leader.
It is understood a red KKK flag put up on Monday afternoon was taken down by police, but officers discovered on Tuesday morning that a blue one had been put up overnight. It has also been taken down.
The KKK, a secretive racist society based mainly in the southern states of the USA, opposed desegregation laws and civil rights for African Americans.
The light blue flag features an Aryan eagle over a KKK symbol and bears the words, New Order Knights and Ku Klux Klan.
Mrs Long said the appearance of the flag added "an even more sinister edge" to recent race-related incidents in the city.
She said a number of complaints from constituents regarding the flags had been passed to the Police Service of Northern Ireland for action.
"Yet again we see those who wish to bully anyone different from them, use flags and emblems to assert dominance and control over a community," she said.
'Hate group'
"To do so at all is to be condemned, but to put up these flags in broad daylight shows just how brazen the culprits are.
"To use flags hailing a hate group such as the KKK is sickening and lends a further menacing element to recent events."
Mrs Long said it was essential that all right-thinking people united against "those who engage in racist, bigoted or otherwise intolerant behaviour".
"It is also critical that the all-party talks this week stop ducking the issue of the use and abuse of flags and emblems for the purposes of intimidation, and face up to dealing substantively with this challenge to a shared future and to the rule of law," she said.
Sinn Féin councillor Niall Ó Donnghaile said the KKK was a "blatantly racist organisation".
"The flying of this flag is all the more sinister, given the spate of recent racist attacks and intimidation against families in this part of the city," he said.
"I welcome the fact that this flag has now been removed but we cannot allow the conditions to exist for people and organisations with clearly racist motivations to believe that it is OK to fly this flag from a public place."
Ulster Unionist assembly member Michael Copeland said: "I welcome the fact that the flag has been swiftly taken down, but it should never have been put up in the first place.
"A defunct American racist organisation has absolutely no connection or affinity with the people of east Belfast - whoever put the flag up clearly has little or no understanding of his or her culture or history," he said.
DUP East Belfast assembly member Robin Newton said he was disgusted the flag had been put up.
"Only this week, representatives from across east Belfast came together to devise a strategy to combat racism," he said.
"Such efforts represent the real face of east Belfast and not the tiny minority who believe they can display such intolerance and aggression."
A police spokesman said no single body or agency had the answer to all the issues surrounding the flying or the removal of flags in Northern Ireland.
"The experience within policing shows that the approach most likely to provide for public safety and prevention of disorder is based on the principles of engagement between local communities working with agencies including local police and resulting in local decision-making," the spokesman said.
"Until the Joint Protocol in Relation to the Display of Flags in Public Areas is updated, the Police Service of Northern Ireland will continue to work with communities and respond to any issue where there is a concern for public safety or where it is believed a criminal offence has occurred."