Northern Ireland teacher training report calls for overhaul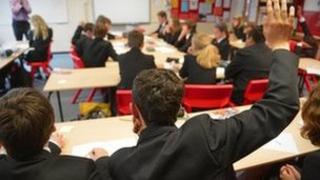 The five teacher training providers in Northern Ireland could face a radical shake-up aimed at saving money and raising standards.
The cost of training teachers at St Mary's and Stranmillis colleges is 40% more than equivalent ones in England.
Stormont Employment and Learning Minister Stephen Farry has said the current system is not sustainable.
A panel of international experts appointed by Dr Farry has backed this view in a new report on the sector.
The report suggests four options:
The number of institutions could be cut to two; one in the north west at the University of Ulster, and one in Belfast at Queen's University, with St Mary's and Stranmillis colleges remaining on their existing sites
A collaboration of the existing bodies to be overseen by a Northern Ireland federation - individual colleges and universities would retain their own ethos and budget, and have representation on the co-ordinating body. This option is described in the report as "relatively expensive" and would add to bureaucracy
An Institute of Education could be created with a single budget and staff but with protection for the origins and religious ethos of some of the current colleges. This option is said to offer the best way to create a world-class system of teacher training. It would also lead to efficiencies, coherence and cost savings. However, the report says this option would be the least likely to win agreement
The least radical option simply requires the various institutions to work more closely together, with students gaining work experience in different school sectors. Collaboration would be required to reduce the current amount of duplication.
The ideas will be put out to consultation, but the team admits that it would be difficult to win agreement on some of them.
The review says that Northern Ireland, with its serious challenges of poor pupil performance, needs a teaching profession at the "top of its game", but claims the current training falls short of international standards.