Corporation tax: Cost of devolving tax to NI still not known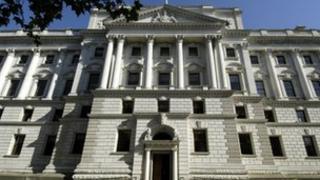 The cost of devolving corporation tax to Northern Ireland has still not been quantified in a joint economic update published by the NI Executive and the Westminster government.
The executive wants to be able to reduce the tax rate to 12.5% to match the Republic of Ireland.
European rules mean that Stormont would have to compensate the Treasury for any tax reduction.
This would require them to hand back a portion of its annual budget.
The 'economic pact' update said more work needs to be carried out to consider "the adjustments to the block grant that would be required if devolution was to proceed".
Some estimates have put the block grant reduction at as much as £400m per year, which could be a controversial political decision if it comes at a time of spending cuts.
The update came as the first and deputy first ministers met Prime Minister David Cameron in Downing Street on Wednesday.
The meeting marked a year since an 'economic pact' between Westminster and Stormont was agreed.
The economic update also states that other detailed technical work has been completed.
That included examining how profits and losses would be allocated between parts of a business located in Great Britain and Northern Ireland.
Immigration clearance explored
The Westminster government restated its corporation tax timetable, which involves making a decision no later than the 2014 autumn statement.
If a decision to proceed with devolution is made, then a stand-alone bill will be introduced with the aim of it becoming law before the 2015 general election.
The wide-ranging economic update also revealed that the feasibility of introducing US immigration clearance at Belfast International Airport has been explored.
That service is available at Dublin Airport and is seen as a major attraction for US-bound passengers.
However, the report said a number of "significant issues" had been identified.
They include the fact that the US authorities will only consider introducing the service at airports that have at least 400,000 passengers per year on US flights.
Belfast International falls below this threshold, with current passenger volumes on US flights in the region of 100,000 per year.