King's Cross team on board for Belfast transport hub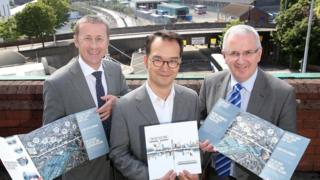 The architect behind the award-winning regeneration of King's Cross station in London has been appointed to the design team for Belfast's new transport hub.
The hub will be centred on the Europa bus station/Great Victoria Street railway station and will open up a 20-acre site.
Hiro Aso, who specialises in railway developments, will be the lead architect.
Arup, the global design and engineering firm, is also on the team.
Translink plans to operate all trains, including the cross-border Enterprise services, from the new hub.
The Enterprise currently operates from Central Station which, despite its name, is in a less central location than Great Victoria Street.
The hub also has the potential to be a catalyst for regenerating the wider area with new offices and leisure facilities.
It is understood that the BBC is considering whether it could move its Belfast operation to the site.
The broadcaster has said it will leave its current premises at Broadcasting House on Ormeau Avenue.
There have also been persistent rumours of a move to Titanic Quarter, but it has taken no decision about a preferred option for its new base.
Hiro Aso said the hub project represented "one of the largest city centre developments in Belfast for many years" and offers the opportunity "to create a significant landmark at a key gateway to the city".
Transport Minister Danny Kennedy said the hub had the potential to "strengthen the heart of Belfast" and could bring benefits to communities in the adjoining Sandy Row and Lower Falls areas.
The designers will now come up with a range of proposals before a final scheme is selected and submitted for planning approval.