Ulster rugby star Tommy Bowe receives University of Ulster honour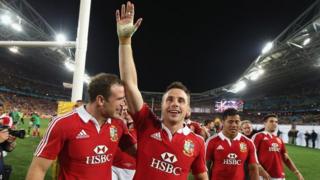 Irish rugby player Tommy Bowe has received an honorary doctorate from the University of Ulster.
He has been honoured for his outstanding contribution to sport.
During his career, the 30-year-old has played for Ireland, Ulster, Ospreys and the British and Irish Lions.
He said the news that he was to be awarded a doctorate of science had led to a few raised eyebrows and provided a few laughs amongst his fellow players on the Ulster team.
"It's something I'm hugely honoured about and I'm looking forward to the occasion," he told BBC Radio Ulster's Talkback.
The Ulster player said he had been very humbled when he found out he was to receive the award.
He said it had also caused amusement within the Bowe family.
"Both my brother and sister are academics and have studied abroad and have masters and are very intelligent. I unfortunately had a few too many knocks to the head playing rugby, but to be the only doctor now I think is something that I hold with a lot of pride," he added.
The player, who is originally from County Monaghan, said his career had been what he had "dreamed of".
"The professional sport is very different now to 10 to 20 years ago," he said.
"We train pretty much every day of the week, we're in almost nine to five or maybe even more hours than that.
"It's not just on the pitch, we're in the gym training, but it's also the behind-the-scenes stuff, video analysis of yourself and the opposition.
"Professional sport is becoming so scientific, so there really is no hiding place.
"To try and stay at the top level and to try to keep pushing yourself is the hard part, because there's so many young guys coming through. It's always a great motivation and something that I always enjoy."