John McCallister confirms NI21 exit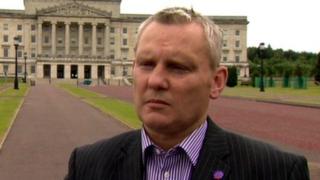 NI21's deputy leader John McCallister has confirmed he has left the party.
The move follows his decision to back an investigation into the party's leader Basil McCrea for inappropriate behaviour.
Mr McCrea has denied the claims that emerged in May, on the day of local government and European elections.
Mr McCrea and Mr McCallister set up the party in 2013 after quitting the Ulster Unionist Party.
Launched with much hype, NI21 promised fresh politics.
Mr McCallister said he was staying until he had honoured his duty of care to party staff, which he felt he had now done.
"The NI21 experience has been the most poisonous and toxic experience of my life and at summer recess it is now time to say I've met those commitments, honoured those commitments that I said I would," Mr McCallister said.
"It's now time to move on and leave the NI21 experiment behind. Certainly it's with a sense of sadness."
Mr McCallister has less than two years to rebuild his profile as an independent before the next assembly election.
"I'm going to continue on working and being that voice for a sensible, tolerant, inclusive, pluralist pro-union voice in this assembly," he said.
"I've had a stint here as an independent before and the way to do that will be, of course, in an oppositional role in the assembly - when the government are wrong on the issues, tell them they're wrong.
"I want to focus my time on the constituency, on my committee role up here, in pursuing my private member's bill on reforming this assembly."