Newry quarry rave stopped by police due to safety fears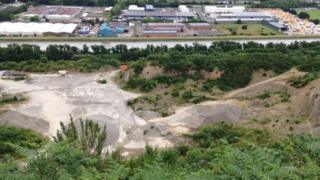 Police have stopped an illegal rave scheduled for the edge of a quarry in County Down amid fears about the safety of young people attending.
The open air event had been due to take place in a field overlooking a disused quarry in Newry on Tuesday night.
The police found out about the event in advance and used social media to stop it.
They told people to stay away from the event by posting on their Facebook page.
Scores of young people were expected to converge on the Hillhead Road for the event.
It runs along part of the Flagstaff, an area of high ground overlooking the city and skirting the top of the quarry.
The road has been closed for some time after serious subsidence. There are security gates and signs that warn people to stay away from the area.
When Newry police found out about the event on Tuesday evening, they posted on their Facebook page to alert the public that they knew the rave was happening and told young people not to attend.
They promised a "robust policing response", and added that they would be reporting attendees for trespass and searching for drink and drugs.
Their page has almost 4,500 likes and the post was quickly shared.
The police also said they had spoken to those who had been organising the event on social media and that it had been cancelled.
When some young people criticised the move, claiming they were spoiling people's fun, the officers were unapologetic.
They said it was much better that than someone falling into the quarry or ending up with a criminal conviction.