Kainos: Belfast-based IT company doubles profits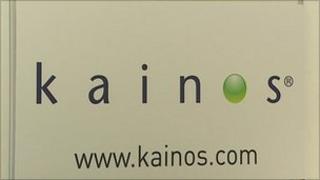 Belfast-based IT company Kainos has more than doubled its profits after winning new contracts with councils and NHS trusts in England.
Kainos increased revenues by 46%, up to £43m from £29.7m a year earlier.
Pre-tax profits jumped to a record £8m from £3.5m.
The company makes software that simplifies processes for clients in the government, financial services and healthcare sectors.
Kainos is now providing digital services to five central government departments at Westminster.
Its most recent results included the company's biggest ever order, a £12.3m contract with the Pennine Acute Hospitals NHS Trust.
Originally a spin-out from Queen's University 25 years ago, Kainos now has offices in Londonderry, Dublin, London, Bristol and Gdansk in Poland.
The firm employs 600 people, more than 350 of them in Northern Ireland.
It is one of the smaller companies to have been included on the Government Procurement Services framework for providing digital services.
The company's managing director, Brendan Mooney, said: "The outlook for 2014-15 and beyond is positive.
"We expect continued growth across all our target sectors, driven by a very strong portfolio of products and services.
"Recruitment remains a priority, particularly in south-west England and Wales, and we will seek to underpin the quality and value of our staff by extending our formal training programmes."