Chief Constable George Hamilton: Twelfth violence 'not inevitable'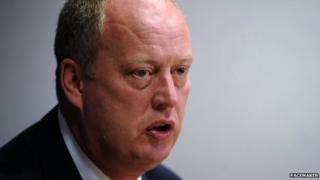 Violence and disorder surrounding 12 July Orange parades is not inevitable, Northern Ireland's new chief constable has said.
"Individuals have choices to make about how they conduct themselves," George Hamilton told the Policing Board.
Referring to the restriction of a contentious parade in north Belfast, he said police "have been planning for every eventuality in recent months".
Mr Hamilton said there was "no doubt that significant challenges lie ahead".
'Dignity and respect'
He was speaking in his first address to the Policing Board on the same day that unionist parties walked out of Stormont talks about parades, flags and the past after restrictions were placed on the return leg of an Orange Order parade, barring it from passing along part of the Crumlin Road.
Sinn Féin, the SDLP and the Alliance Party warned the unionists' move was likely to increase tensions.
Mr Hamilton told the board: "I want to reiterate our approach will be to uphold the law, protect human rights, implement the Parades Commission determination and work with communities involved to help find solutions," he added.
"I would encourage all communities to continue to show the dignity and respect evident at recent parades and protests so that the remainder of this year's parading season passes off as peacefully as it has to date."
The chief constable also welcomed a Court of Appeal ruling made earlier this week that overturned a previous decision that police wrongly facilitated loyalist flag protests.
"The PSNI was concerned that elements of the original High Court judgement may have impacted on our ability to police parades and protest activity in a way which is fully compliant with the Human Rights Act and policing with the community philosophy," he said.
Mr Hamilton also addressed the "steady rise" in hate crimes being reported.
He said more than 30 individuals had been charged since April, and a team dedicated to tackling hate crimes would remain in place at least until September while local police commanders "work to develop multi-agency interventions".
"Of course we know that hate crime has been historically under-reported and whilst the rise in reporting presents challenges, it is also encouraging that as confidence in police rises, so does reported hate crime," he added.
Mr Hamilton said his "number one priority" was "striving to keep all members of our society safe".
"I recognise that how we deliver safety is vital to increasing confidence in PSNI - while keeping people safe is what we do, policing with the community is how we do it," he said.
"Policing with the community is the style of policing that I want to continue to build on."
He said large scale events, such as last month's visit by the Queen and the Duke of Edinburgh, where their schedule was made public in advance, showed how far Northern Ireland has come in recent years.
"While we have come a long way, there is still much work to be done," he said.