Thousands at Belfast city centre anti-abortion rally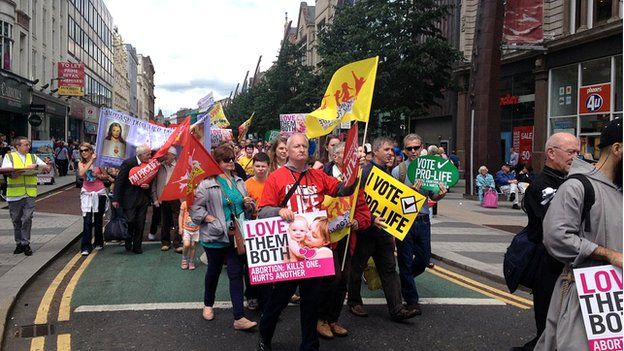 Thousands of pro-life demonstrators have taken to the streets of Belfast city centre in an anti-abortion rally.
They marched from Custom House Square to the city hall and back.
Organisers said they were delighted with the turn-out. A small group of pro-choice demonstrators gathered at the front of the city hall in protest.
The pro-life protest was over proposed changes to Northern Ireland's abortion laws.
The laws covering abortion in Northern Ireland are the 1861 Offences against the Person Act, and the Criminal Justice Act 1945.
Terminations are only permitted to save a woman's life, or if there is a risk of permanent and serious damage to her mental or physical health.
Northern Ireland's Justice Minister David Ford has said he is going to consult on changing abortion laws to allow women carrying babies with fatal foetal abnormalities to have a termination.
The protest on Saturday was against that.
Among the demonstrators was singer Dana Rosemary Scallon.
"It's a great turnout, it's a celebration of life and these people want to protect life at all its stages," she said.
"No outside force should ever force the people of any sovereign nation to change their laws or in any way to bring in agendas that the people are not in agreement with."
The pro-choice group said they held their protest to show there was an alternative view.
"I believe that a woman who has an unplanned pregnancy or an unwanted pregnancy in Northern Ireland should have the same access to abortion as every other sister in the United Kingdom," the group's Brenda Callaghan said.