Craigavon murder: Owen Creaney's body 'concealed in wheelie bin'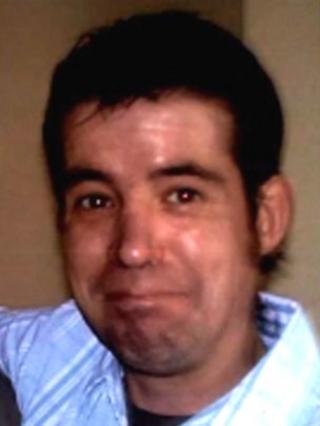 The man who was found murdered at a house in County Armagh was Owen Creaney.
The body of the 40-year-old, who was from Victoria Place in Lurgan, was found in Moyraverty Court in Craigavon on Saturday evening.
Police revealed on Sunday that Mr Creaney's body had been concealed in a wheelie bin. They also said he was disabled and used a walking aid.
A 23-year-old woman and a 27-year-old man have been arrested.
At a press conference, police said they believed Mr Creaney had been the victim of a serious and sustained attack which he appeared to survive, but died some time later.
Police said Mr Creaney's body was found in the bin in the porch at the back of the house in which the 27-year-old man lived.
'Frail and vulnerable'
Det Ch Insp Richard Campbell said: "I would hope that the community would be rightly disgusted by the attempt to conceal Owen's body after this brutal murder.
"Owen was 40. In fact, he celebrated his 40th birthday last Saturday, 28 June. He was a frail and vulnerable man. Although he was only 40, he had significant mobility issues which meant he required the aid of a walking frame or stick to get about.
"I think it is important for the community to reject this violent assault on Owen and contact police with any information which they have."
Neighbours told the BBC the man who was arrested had only moved in three weeks ago and they believed the body may have been there for a number of days.
SDLP MLA Dolores Kelly said the local community was in shock.
"I'm sure it was a very gruesome discovery for whoever found the remains and indeed for emergency services having to do the investigation so people are rightly very disturbed by this," she said.
The cause of the man's death will not be released until a post-mortem examination has been carried out, the PSNI said.
Police have appealed for anyone who saw anything suspicious around Moyraverty Court between Wednesday and Saturday afternoon to contact them.