Election posters 'should be removed' from NI bonfires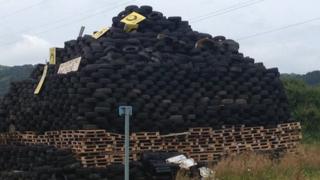 The Ulster Unionist leader has called for respect for different traditions after Alliance and Sinn Féin election posters were placed on bonfires.
Posters of Alliance MLA Anna Lo and Sinn Féin's MEP Martina Anderson were reportedly placed on a bonfire in Bangor, County Down.
Ms Lo's poster was also set on a bonfire in Carrickfergus, County Antrim.
Mike Nesbitt called for the immediate removal of posters from the bonfires.
"It is perfectly possible to celebrate one's cultural identity without having to resort to burning election posters or seeking to offend anyone else," he said.
"I have previously called for actions to be lawful and peaceful, but it is equally important to stress that they must also be respectful."
Sinn Féin MLA Daithí McKay said burning election posters on bonfires should be treated as a hate crime.
"Sinn Féin is strongly opposed to the burning of election posters on bonfires," he said.
"These are hate crimes against sections of our community and should be treated as such."
Ms Lo told the Belfast Telegraph newspaper that she was not shocked but "deeply personally offended" by what had happened to her posters.
Her party colleague, Stewart Dickson said: "This is a hate-filled crime which is an example of gross intolerance.
"It is hypocritical for the organisers of these bonfires to call for respect for their culture when they are burning posters of politicians."
Bonfires are lit in many unionist areas across Northern Ireland on the night of 11 July, as part of the annual Battle of the Boyne commemorations.