Belfast court: Woman jailed for drink driving crash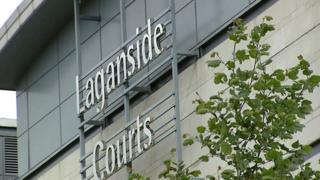 A woman who caused a head-on collision whilst drunk driving was on her way to an Alcoholics Anonymous meeting, Belfast Crown Court has heard.
Briege O'Hara, 61, from Antrim Road, Belfast, was jailed for nine months on Monday.
She was driving on the wrong side of the road on 27 August 2013, when she hit another motorist and injured him.
The court was told that she knew the man whom she injured and was "entirely remorseful".
A prosecuting lawyer said the crash happened at 11:30 BST on the Antrim Road.
O'Hara had driven around a bend on the wrong side of the road and the van "didn't have a chance" to move out of her way.
She was arrested and tests showed she had been driving whilst over the limit.
O'Hara said she could not remember the crash. She said she had taken a glass of wine and 5mgs of Diazepam before leaving the house.
She pleaded guilty to causing grievous bodily injury by dangerous driving and also driving with excess alcohol.
The van driver, a man in his mid 60s, broke his sternum and left hand in the collision and lost his job as a delivery driver as a result. He was treated in hospital for his injuries.
A defence lawyer said that while the incident was "utterly disgraceful", his client was "entirely remorseful".
He said that she had spent 12 weeks in residential care for alcohol addiction problems almost immediately after causing the crash and had not taken alcohol since then.
Her lawyer said she had had a very difficult life and was emotionally fragile.
O'Hara was sentenced to 18 months. She will spend half of this time in prison, with the remaining nine months spent on supervised licence. She was also banned from driving for three years.