Ardglass harbour: Two anglers rescued after boat hits rocks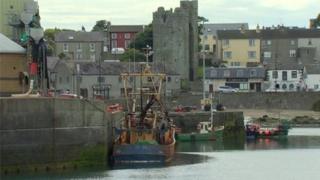 Two anglers have been rescued after their boat sank at the mouth of Ardglass harbour in County Down.
It hit rocks close to Phennick Point on Monday at about 12:45 BST and ran aground.
The two men onboard were able to climb to safety onto the rocks and the boat was towed away by another boat in the area.
The tow rope was passed to the RNLI lifeboat which had been alerted. However, the boat sank suddenly.
The men were cared for by the Portaferry Coastguard team.