Q&A: How five Garth Brooks concerts became none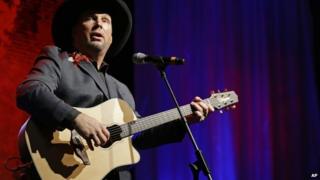 The cancellation of five Garth Brooks concerts in Croke Park was greeted with widespread disappointment, particularly by the 400,000 people who had bought tickets.
The decision came after Dublin City Council granted permission for three out of five proposed concerts for 25-29 July.
Garth Brooks said he would play all the shows or none.
The concerts were then cancelled on Tuesday, 8 July.
Peter Aiken, whose company Aiken Promotions organised the concerts, said that he had never heard of permission being denied to "any other major show in Dublin ever".
For the 400,000 ticket holders seeking a refund, many may wonder how a major event could be cancelled 17 days before they were supposed to take place.
Why were tickets sold for five Garth Brooks shows before they had the permission to go ahead?
In the Republic of Ireland, a major outdoor concert requires a licence from the local authority.
It is standard practice that major concerts are advertised and sold before this licence has been secured.
Most events of this nature are advertised as being subject to licence.
The process and practice is similar in Northern Ireland, where concerts are often advertised before the necessary licences have been granted by the local council.
How does the licence process in the Republic of Ireland work?
Before 2001, a major concert required full planning permission to go ahead.
The law was changed so that a venue could temporarily be used for a one or two-day event, providing it receives a licence from the council.
Under the regulations, any event organiser putting on an outdoor event for more than 5,000 people is required to apply for a licence.
The organiser must advertise their intention to apply and then make the application no more than two weeks later.
The application has to be made at least ten weeks before the event.
The local council cannot reach a decision on the application for five weeks, so the public has enough time to make submissions on the licence.
In what timeframe did Aiken Promotions apply for the Garth Brooks licence?
Aiken Promotions lodged the application on 17 April.
This is 14 weeks before the first proposed concert and ten weeks after all five concerts had sold out.
Peter Aiken said: "In every way we went, we did it exactly how we've done every other show in Ireland."
Why was the application turned down?
Dublin City Council said that it would "not be appropriate" to allow five consecutive nights of concerts.
They said the scale of the events was "unprecedented" and would lead to "an unacceptable level of disruption" for residents and businesses near Croke Park.
The council also said that granting all five concerts, following on from three by One Direction in May, would have doubled the previous maximum number of concerts held at Croke Park per year.
The council had received about 370 submissions from residents, residents' groups and businesses.
Some residents had threatened legal action if the concerts were granted a licence.
Could the decision be appealed?
No. There is no provision for appealing a decision on an events' licence.
The only course of action for Aiken Promotions would have been to seek a judicial review in the courts.
Also, Aiken could not reapply for a licence as there was not enough time for the council to consider it.
Why are residents against the concerts?
Some residents said the proposed five consecutive concerts would have caused huge disruption to the area and their daily lives.
The residents said that they are already subject to regular disruption through the hosting of GAA games at the venue.
They have also accused the GAA, who operate Croke Park, of ignoring the maximum number of concerts allowed in the venue and failing to consult with them about major events.
Why does Croke Park only hold three concerts per year?
When redevelopment of the stadium began in 1993, planning permission was granted on the condition that only three concerts, or special events, are held at Croke Park each year.
This agreement has been kept every year, except 2009, when the venue hosted four concerts - one by Take That and three by U2.
About 80 residents picketed lorries unloading equipment after the final U2 concert, due to two days and nights of continuous activity that caused disruption and disturbance in the area.
Residents groups said there was then an agreement made between them and the GAA about the future staging of concerts.
However, a report in June by mediator Kieran Mulvey, which recommended how concerts should be organised at Croke Park in the future, noted that he saw no written evidence of any such agreement.
Are there any measures being taken to ensure this situation does not happen again?
Fianna Fáil last week published emergency legislation in the Irish parliament, aimed at bringing in an appeals system for event planning.
On Wednesday, Irish prime minister (Taoiseach) Enda Kenny rejected calls to support the bill, but said the government would look at the situation in the future.
The Mulvey report recommended that Croke Park never again be considered to host four or five concerts consecutively and that a legacy fund be set up for the local area.
The recommendations have not yet been agreed by Croke Park residents or the GAA.