Garth Brooks concerts Taoiseach Enda Kenny intervenes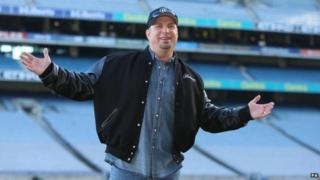 Irish Prime Minister Enda Kenny has intervened in an effort to resolve the controversy over five Garth Brooks Dublin concerts.
Last week, Dublin City Council granted permission for only three concerts, and all five were cancelled on Tuesday.
Earlier, the US country star asked his Irish concert promoter if there was any chance the concerts could be salvaged.
Irish broadcaster RTE reported on Wednesday night that Mr Kenny is seeking a resolution to the dispute.
It said Mr Kenny is believed to have contacted the chief executive of the Labour Relations Commission, Kieran Mulvey, and asked him to organise a meeting between Dublin's Lord Mayor Christy Burke and the City Manager Owen Keegan.
The meeting is expected to take place on Thursday morning.
A spokesman for Mr Kenny said: "In light of the letter from Garth Brooks today - if there was an opportunity to facilitate a positive outcome, the government would certainly consider it".
'En route'
In his letter to Aiken Promotions earlier, Garth Brooks said: "My heart is breaking right now.
"I hope you understand that to play for 400,000 people would be a dream, but to tell 160,000 of those people that they are not welcome would be a nightmare."
Brooks said last week he would play "all or none" of the Croke Park concerts, a stance that he repeated on Wednesday.
"To do what the city manager suggests (play three shows and not all five) means I agree that is how people should be treated and I just can't agree with that," he said.
"Our guys are still en route and if there is any chance that the five planned concerts can be salvaged and nobody is being let down then we can proceed as planned until the refunds begin.
"If you tell me, 'Garth, thanks but it is over', I will cease my efforts and bring our people and gear back to the States.
"If you think for any reason that the 'powers that be' in Ireland can fix this, then I will faithfully go to the last second."
Arrangements for the refunding of 400,000 tickets for the Croke Park concerts have been revealed.
The details were published on the website of Ticketmaster, which had sold the tickets:
People who bought tickets over the phone, online or by mobile will not have to do anything more, but the company advises people to allow up to 10 working days for the money to be refunded
Those who bought tickets in a shop will have to complete a refund form and either post it to the company along with the tickets or hand them into a Ticketmaster outlet
The Ticketmaster service charge will also be refunded
However, people who bought tickets from unauthorised sellers will have to contact them personally to get a refund from them.
'Mess'
Dublin City Council granted permission last week for just three of the country singer's planned concerts later this month, but Aiken Promotions announced on Monday that having "exhausted all avenues", none of the shows would go ahead.
Earlier, Irish prime minister Enda Kenny rejected calls for emergency laws to be brought in to allow the concerts to go ahead, as the government risked being accused of "doing down" the rights of residents and interfering with the planning process if it intervened.
He told parliament he had ordered a review of the planning process for major events.
"It's a major loss to the country, to the goodwill and good feeling of all those fans of Garth Brooks that this is lost, not to mention the hard economic loss to people here - it's a mess," he said.
The GAA, Aiken Promotions and Dublin City Council have asked to appear before the Oireachtas Committee on Transport and Communications, which wants to establish the chain of events that led to the cancellations.
Last week, the council said it could not reverse the decision permitting only three, but on Monday, councillors backed a motion calling for the five concerts to go ahead.
Lord Mayor Christy Burke said three days of talks with promoter Peter Aiken, the GAA and mediator Kieran Mulvey had failed to find a solution.
Residents had claimed they were not consulted before the organisers announced the shows or put the tickets on sale.
The council said that granting all five concerts, following on from three by One Direction in May, would have doubled the previous maximum number of concerts held at Croke Park per year.
Licence application
The GAA had an agreement with residents that a maximum of three concerts would be held each year in the sports venue.
The council said 373 submissions had been received from residents, residents' groups and local businesses.
The promoters lodged an application for a licence to stage all five shows on 17 April despite not having secured formal permission from the council.
This is not an unusual practice in the Republic of Ireland, but the controversy over the Garth Brooks concerts has brought the issue into the spotlight.
The concerts were supposed to mark Brooks' comeback, and the singer recently said that Ireland was the best place in the world for him and his favourite place to sing.
It has been 17 years since his last concert in Dublin.