North Belfast parade: Unionists call for inquiry into 'parades impasse'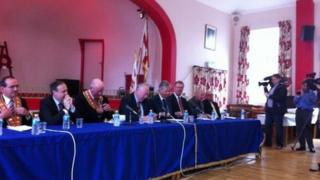 Unionist leaders have called on the secretary of state to set up a legal inquiry into marching issues in north Belfast.
They said there should be a time-bound inquiry into the "parades impasse" and wider issues.
Unionist leaders and senior Orange Order officials announced a series of measures at a news conference.
It was to explain what they termed a "graduated response" to a Parades Commission ruling in north Belfast.
They have also signed a pledge calling for peaceful protests over the 12 July.
The commission last week ruled that the Ligoniel Orange Lodge should not make a return parade along part of the Crumlin Road on the evening of 12 July.
The Orange leadership had requested a meeting with the prime minister.
They said they wanted to express their view that the current system for regulating parades in Northern Ireland was undermining democracy.
Senior representatives from the Orange Order, Royal Black Institution and Independent Orange Order met Secretary of State Theresa Villiers on Wednesday afternoon.
Afterwards, more than 100 members of the order, including the grand master and Grand Lodge office bearers, met at Tamnamore Orange Lodge in County Tyrone to discuss the north Belfast parade.
"We want the prime minister to be aware of the problem and to indicate that he has the will to try to resolve the problem," Orange Order grand secretary Drew Nelson said.
"Effectively that means getting rid of the Parades Commission and replacing the Public Processions Act with fairer legislation."
As a result of last week's decision by the Parades Commission, unionist parties pulled out of talks on parades, flags and the past.
A statement was issued by the DUP, Ulster Unionists, TUV, PUP and the Ulster Political Research Group.
"If we are to convince unionists that violence is not the only response to those who have consistently succumbed to republican violence and threats of violence, we must provide alternative means to channel justified anger and outrage," the statement said.
"There will be a graduated unionist response involving the Orange Institution, the PUL (Protestant unionist loyalist) community and political unionism."