Kilkeel Catholic church damage suspect released on police bail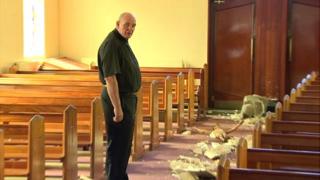 Police have released on bail "a male" arrested after the interior of a Catholic church in Kilkeel, County Down, was vandalised.
Crosses, statues, pews and windows were damaged during the attack on the Our Lady of the Angels oratory in the town's Greencastle Street.
A priest's car parked nearby was also damaged and the windscreen smashed.
Police have said there was no sectarian motive behind the attack.
"A male who was arrested in connection with criminal damage to a church in Kilkeel has been released on police bail pending further enquiries," a PSNI spokesman said on Friday.
Father Michael Murray said that after discovering the attack on Thursday, he felt "heartbroken".
'Sinful'
"I just couldn't believe that anybody could go to the lengths that they've gone to here to destroy what we have in the chapel," he said.
"Parishioners this morning - we had Mass at half nine - they had to be turned away, but when they heard about the damage that had been done some of them broke down in tears."
The attack was condemned by senior Orangeman Drew Nelson, who is from County Down.
"This criminal act is as shameful and sinful as an attack on an Orange hall. It is wrong and I utterly condemn the actions of those responsible," he said.
Police said the attack took place between 23:00 BST on Wednesday and 09:00 on Thursday.
Supt Simon Walls has asked for witnesses or anyone with information about the incident to contact police.
"Any attack on a place of worship must be condemned and we are now investigating to find those responsible," he said.
"If you noticed any activity in this area or have any information which may be connected, please contact police in Kilkeel."