Kilkeel Seafoods creating 33 jobs backed by Invest NI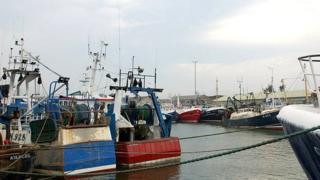 A County Down seafood processor plans to create 33 jobs in a £933,000 investment.
Kilkeel Seafoods, based at Kilkeel Harbour, is expanding its processing operations for wholetail scampi
It will supply the scampi to Whitby Seafoods, its parent company based in north Yorkshire.
The new jobs will be provided over the next two years. Invest NI has offered support of £99,000 for the 33 new posts through its Jobs Fund.
Kilkeel Seafood currently employs 140 people.
John Hood, Invest NI food and tourism director, said: "This is a very significant and strategic investment by Whitby which will strengthen the position of Kilkeel Seafoods within the wider business and is being made because of the quality of products processed at the port from scampi sourced from local and Irish trawlers.
"The consolidation of scampi processing at Kilkeel is, therefore, a very important boost for the local fishing industry and the wider economy of the County Down coastal region, the centre of a fish processing industry in Northern Ireland.
"Support from the Jobs Fund will leverage almost £500,000 annually in direct salaries and wages of the new employees as well as offering opportunities to a broad range of suppliers including local trawler owners and crews."