Fresh calls over tyres on 11th bonfires in Northern Ireland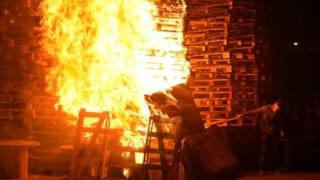 Hundreds of bonfires have been lit across Northern Ireland as part of the Twelfth celebrations.
The fire service reported that it had received 24 emergency calls between 18:00 BST and 21:00 BST on Friday evening.
Six of the calls involved bonfires and in three cases, firefighters had to act quickly to save people and property.
At one blaze, crews used water jets to cool sheds close to a bonfire.
The fire service said the number of call-outs was in line with the same period last year.
In the run-up to bonfire night, there were warnings not to burn tyres on fires.
The Department of Environment has confirmed this is illegal.
The organisers behind one in Sandy Row in south Belfast have said they have stuck to the DoE's guidelines and say it is their biggest time of year.
Sammy Hillerby, of the Sandy Row Community Forum, said: "The bonfire is very, very important.
"It's like Christmas, the one main thing the full community look forward to all year and there's people from all over the world come here."
Bonfires are lit in Protestant areas on 11 July ahead of the Twelfth of July, a day when thousands of Orangemen commemorate the Battle of the Boyne.