Ballymena bin attack accused gets bail extension to attend 'Eleventh night bonfire'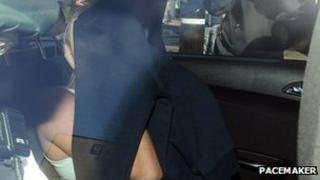 A woman charged with attempting to murder a man found naked in a sealed bin has had her bail curfew extended to attend an Eleventh night bonfire.
Paula Wilson, 21, from Millfield, Ballymena, is charged with attempted murder and false imprisonment of 21-year-old Adam Robinson.
He was found by dog walkers in a park in Ballymena last September.
The police told Belfast Crown Court that they had no objection to the curfew extension.
She is accused along with two 27-year-olds, also from Ballymena - David Roddy Patterson, from Glendun Drive, and Teri Lau, from Dunclug Park.
Mr Robinson was found in the bin at Sentry Hill on 3 September 2013.
A previous court hearing was told that Mr Robinson had been beaten, before being stripped naked and put into the bin, which was then sealed with tape.
Earlier on Friday, a lawyer for Ms Wilson told the court that she wanted her bail curfew to extend from 22:30 BST to 01:00 BST "in order to attend a bonfire".
No application was made to lift her other bail conditions, such as a ban on taking drink or drugs.
A full bail application for Mr Patterson was dropped when his lawyer told the court that an agreed bail address had been "withdrawn at the eleventh hour".