Orange Order: Thousands take part in annual Twelfth parades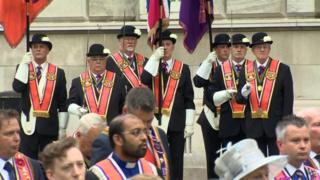 Tens of thousands of Orangemen and women have taken part in 12 July celebrations across Northern Ireland.
In contrast to last year, there were no incidents as a return leg of a parade was prevented from passing a sectarian flashpoint in north Belfast.
It had been barred by the Parades Commission from returning along this stretch of road.
Thousands of people have also attended flagship parades in Markethill, Larne and Limavady.
Chief Constable George Hamilton said: "I am pleased that today's Twelfth parades have passed off largely successfully and that those taking part were able to enjoy their day.
"This has been due to a number of factors, including responsible leadership from a range of groups such as the Orange Order. I welcome the repeated pleas from the Orange Order and politicians from all sides for all parades and protests to be peaceful and lawful."
In north Belfast, police put security barriers in place ahead of the return parade along a stretch of the Crumlin Road that separates unionist and nationalist communities.
Senior Orangemen, including Grand Chaplain Mervyn Gibson, arrived in the area ahead of the parade as part of a group of marshals.
Police removed the barriers less than an hour after installing them.
Earlier, the return parade also passed a protest outside St Patrick's Catholic Church in Donegall Street.
The first band played a single drum beat as it passed the church, in keeping with a Parades Commission determination.
The second band played the hymn Abide With Me.
There was also a protest in the area earlier during the parade's outward journey.
DUP MP Nigel Dodds praised the north Belfast unionist community.
He said: "What we have seen today and over the last number of weeks has been leadership at every level in the unionist and loyalist community.
"At a local level, where there has been a peaceful demonstration and protest in support of the Ligoniel lodge's right to get home and it has being carried through at a higher level and a political and community level as well and that will continue.
"And I want to commend the local community here, the local lodges, the Orange Institution , the political parties who have worked together, come together in a united way to provide the leadership which has resulted in a day which I believe marks a watershed in terms of this campaign."
There were also a number of protest parades taking place across Northern Ireland, including in Dromore, County Down, Rathfriland and Banbridge.
Earlier, all the parades stopped for six minutes in protest at the Parades Commission determination on the return of the north Belfast feeder parade.
The 12 July is traditionally the biggest day in the Protestant marching season - running from April to August - with 17 main parades and several feeder parades taking place this year.
They mark King William III's victory over Catholic King James at the Battle of the Boyne in 1690.
While most parades proceed without incident, some that pass nationalist areas are controversial.
Around 20 residents stood outside Ardoyne shops in north Belfast as the Orange Order parade passed on Saturday morning.
The residents said they were there to observe, not to protest, and the march was not obstructed.
There was a large police operation in place throughout Northern Ireland with more than 3,000 officers on duty.
Earlier, Grand Lodge of Ireland Secretary Drew Nelson warned any Protestant who threw stones or bottles that they would be "falling into a republican trap".
The Orange Order had encouraged people to take selfies to "capture the colour, spectacle and unrivalled carnival atmosphere at Orange parades".
'Colourful and vibrant'
Orange Order Grand Master Edward Stevenson said he hoped the photographs would "act as a lasting memory of another glorious Twelfth of July".
"The Twelfth of July is a day like no other and a unique celebration of our culture, faith and identity," he said.
The parades at Limavady, Markethill and Larne were chosen by the Order as tourist flagship festivals.
About 40,000 people attended the demonstration in Limavady.
Robin Swann, a UUP MLA and Orangeman, thanked the public for their support of events in north Antrim.
"The community is to be highly commended for its magnificent support of all the mainstream Orange Order demonstrations throughout north Antrim, as well as the Independent Orange Institution's demonstration.
"The organising brethren and sisters of both the mainstream Orange Order and Independent Institution are to be equally commended for hosting very professional demonstrations which enhanced both Orders' true Christian and family values."
In recent years, the 12 July parades have been rebranded as "Orangefest", in an attempt to attract tourists.
About half of Belfast city centre's shops were open for business on Saturday, but most had low expectations for business.