Nollaig O'Connor: Missing NI woman found by childhood friend in Spain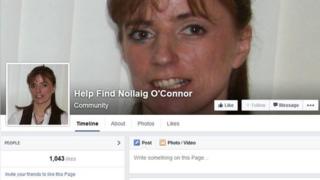 A woman from Northern Ireland who was missing for over a year has been found after a childhood friend spotted her asleep under a tree in Spain.
Nollaig O'Connor, from Enniskillen, County Fermanagh, was recognised in Murcia by Nicholas Cassidy, who was on holiday with his wife.
He knew the missing 37-year-old from their time in a scout band as children.
Ms O'Connor had not been in touch with her family since May 2013, after she told them she was going travelling.
She was last seen in Cornwall in July last year, after leaving Aberdeen where she was studying.
Her family had launched a social media campaign to find her.
A Facebook site set up to help spread awareness attracted over 1,000 likes.
On Saturday, a message posted on the Facebook site said that she had been found and that the family were "truly blessed".
Her father, Bernard O'Connor, told BBC Radio Ulster that the family had been "extremely worried".
"She has had a difficult time," he said.
"She had used a violin to busk around the various areas she was in. That gave her money to survive but, unfortunately, her violin was stolen in Rome.
"She was in difficult times since then. But Nicholas was walking past this girl asleep under a tree and told his wife he thought it was Nollaig.
"They were both in St Michael's scout band, so he would know her extremely well.
"Our next mission in life is to help Nollaig recover from all this."