Petrol bombs thrown at Willowfield PSNI station in Belfast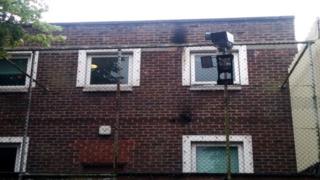 Two petrol bombs have been thrown at Willowfield police station in east Belfast.
The devices were thrown at the station from the direction of Willowfield Drive at about 23:40 BST on Sunday night.
No damage was caused. Police have appealed for witnesses to the attack to contact them.
DUP assembly member Robin Newton said there was no justification for the attack, which he described as "mindless".
"Anyone who is prepared to put life at risk by throwing petrol bombs is a danger to the whole community and needs to be taken before the courts," he said.
East Belfast MP Naomi Long also condemned the attack.
"Those responsible are just interested in mindless violence and do not have any regards for the consequences of their actions," she said.