Three in court over 12 July Belfast rioting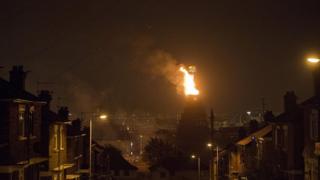 Three men have been remanded in custody accused of rioting in Belfast during the early hours of 12 July.
Belfast Magistrates' Court heard police were attacked with bricks, bottles and masonry as crowds of up to 200 people gathered at a sectarian interface.
One of those accused of involvement was allegedly seen throwing 16 items amid disorder near Lanark Way.
Sean Hyland, of Violet Street, Belfast, faces charges of riot and criminal damage to a police CCTV camera
He also charged with attempted criminal damage to a PSNI Land Rover wing mirror.
Opposing bail, a police officer said the 22-year-old said he he had drank 15 beers that night.
Also in the dock were Robert Hyndman, 33, of Oldpark Avenue, and Michael McDonnell, 34, from Wyndham Street, both in Belfast.
They are jointly charged with riotous behaviour and attempted criminal damage to a police Land Rover in the Oldpark Road area.
Mr McDonnell is alleged to have told police he had downed two 10-packs of beer and a quarter bottle of vodka.
The officer opposed their bail applications, saying tensions remained at the city's interfaces.
Defence lawyers argued that as the subsequent 12 July demonstrations remained peaceful, the accused should be released.
However, a district judge ruled there was a risk of re-offending and remanded all three in custody to appear again next month.
Meanwhile, a Lithuanian man is to remain in custody charged with disorderly behaviour in the Sandy Row area of the city on 12 July.
'10 bottles of alcohol'
Tomas Puida, 27, of Ligoniel Road in Belfast, is also accused of resisting arrest and two counts of assault on police.
He was not brought into court following an incident in the cells.
But after telling the court the accused had allegedly drank 10 bottles of alcohol before his arrest, a police officer said she would have no confidence in him abiding by bail conditions.
Mr Puida was remanded in custody to appear again on 7 August.