Northern Ireland child obesity 'needs to be tackled'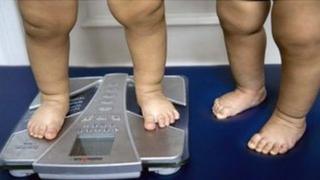 Obesity in children in Northern Ireland is on the rise and needs to be tackled, according to a Royal College of Paediatrics and Child Health survey.
It found an increase in the numbers of children they have treated who are overweight.
The findings also flagged up a rise in the numbers of young people with mental health problems.
The organisation is opening an office in Belfast on Wednesday to try to help improve children's health.
They are calling for key public health messages to be sent out, particularly to low income families along with faster, better treatment.
Dr Hilary Cass, president of the Royal College of Paediatrics and Child Health, said if the problem is not tackled now, it will rapidly get worse.
Speaking on BBC's Good Morning Ulster programme on Wednesday, she said: "We should be worried because if we do not fix this problem now, we will see unhealthy kids turning into unhealthy adults with diabetes, heart disease and kidney problems.
"Not only should we be tackling it because morally it is the right thing to do, but it makes economic sense to tackle it now."
'Sedentary lifestyles'
Dr Cass said nearly 20% of children in Northern Ireland are now overweight or obese before they start primary school, and urged the public to make healthier choices and recognise the importance of exercise.
"It is never simple, it is because more of us are leading sedentary lifestyles and not understanding the right food choices," she said.
"Young parents, in particular, we need to support and explain to them how to make healthy choices, take more exercise and be more active. It is really important how we educate our young people, it is our responsibility to do that."
Dr Cass also said there was a link between levels of income and obesity within families.
"Not only if you come from a more deprived background, do you have higher levels of obesity, but in more affluent groups things are levelling off," she said.
"In the more deprived groups, it is getting worse - so you start worse, and it is getting even worse over time. We have got to support people in that income bracket.
"We cannot forget any one group, but we should try and support those from low-income backgrounds, in terms of making clear that you can get healthier foods within the budget you have available."