NI economic recovery still fragile, figures suggest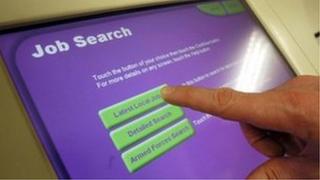 The recovery of the Northern Ireland economy is still fragile, new official figures suggest.
Labour market improvement continued for the 18th month in a row in June with the number of people claiming unemployment benefit falling by 900.
However, the Northern Ireland Composite Economic Index (NICEI), which is roughly equivalent to GDP, fell back by 0.4% in the first quarter of 2014.
In the same period in 2014, GDP in the UK as a whole grew by 0.8%.
The fall in Northern Ireland was mainly due to a 0.6% fall in the service sector with growth of 0.1% in construction and manufacturing.
Below peak
However, the figures suggest that by March 2014 the Northern Ireland economy was 1.6% larger than it was at the same point in 2013.
By comparison, the UK economy grew by 3% over the same period.
The quarterly fall in the Northern Ireland index is a surprise as a succession of business surveys have pointed to improvements in the service sector.
The Northern Ireland economy is still 12.7% below its pre-recession peak whereas the UK has now made up almost all the output that was lost during the recession.
There are now 54,300 people in Northern Ireland claiming unemployment benefit, which is 6.1% of the workforce.
That is still significantly above the average UK figure of 3.1%.
The second measure of unemployment, the Labour Force Survey, also shows Northern Ireland performing below the UK average.
It shows a quarterly unemployment rate in Northern Ireland of 6.7% compared to the UK average of 6.5%.
Commenting on the figures, Enterprise, Trade and Investment Minister Arlene Foster said the claimant count has now fallen by 8,800 over the last 12 months.
She focused on the NICEI, which showed annual growth that she said was "encouraging", adding that it was important "to build on recent progress by support in research and development, expanding existing markets and promoting inward investment."