Michelle Gildernew: 'Unionists were considered in Derrylin parade'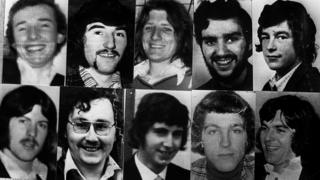 Unionist sensitivities were considered in plans for a republican hunger strike parade in County Fermanagh, MP Michelle Gildernew has said.
She was responding to Ulster Unionist Tom Elliott's comments that the event in Derrylin was "highly insensitive".
Mr Elliott said families whose relatives were murdered by the IRA in the area were unhappy.
Ms Gildernew, Sinn Féin, said the parade had deliberately not been held in Enniskillen.
The parade, scheduled for 3 August, commemorates the 1981 hunger strikes in which 10 republicans died.
"Fermanagh has a historic connection to the hunger strike as Bobby Sands was elected MP here in April 1981, so it is apt that Fermanagh has an opportunity to hold this commemoration," she said.
"When deciding the venue we took into considerations the sensitivities of the unionist community. We decided that rather than hold it in the county town of Enniskillen we would hold it in the predominately nationalist village of Derrylin.
"The organisers consulted with the local community and have agreed a formula that minimises any disruption to the local community."
She said the parade for 10 republicans who died in 1981 to be held in Derrylin would be dignified.
Sinn Féin said up to 10,000 people were expected to attend.
But Mr Elliott said the parade would "re-traumatise" people whose relatives were murdered by the IRA.
"It is highly insensitive, particularly given the number of innocent people murdered in the area," he said.
"This leaves those families re-traumatised and those people have already gone through a lot.
"If Sinn Féin would listen to these families, they owe them that right to listen," he said.
Fermanagh and South Tyrone MLA Arlene Foster said the hunger strike march was "the glorification of terrorism" and she called for stronger laws to deal with this.
"On the one hand, they (Sinn Féin) agitate against Orangemen walking a shared arterial route for all of six minutes in Belfast, whilst on the other, they plan for 10,000 of their supporters to descend on a small County Fermanagh village to glorify and worship some of the most reprehensible terrorists in the history of Northern Ireland," she said.
The annual parade on 3 August is in memory of the 10 men who died in the hunger strikes at the Maze prison in 1981.
The republican hunger strikes followed the government's decision to treat IRA prisoners as ordinary criminals, refusing their demands to be treated as prisoners of war.
From 1 March 1976, newly sentenced IRA prisoners refused to wear jail clothing and wrapped themselves in blankets. They later refused to wash or slop out.
The hunger strike which would eventually see 10 republican prisoners die began on 1 March 1981, the fifth anniversary of criminalisation of IRA prisoners.