Attack on Castlederg memorial to UDR soldiers 'hate crime'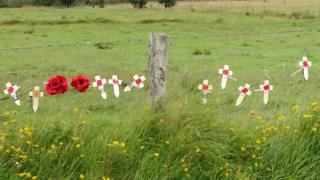 Police are treating an attack on a memorial to two UDR soldiers murdered by the IRA 30 years ago as a hate crime.
It was defaced hours after a prayer service was held to remember the soldiers on Monday in Castlederg.
Norman McKinley and Heather Kerrigan were killed in a landmine attack while on foot patrol on 14 July in 1984.
Wreaths left at the scene were damaged and a pro-IRA sign erected.
Two remembrance crosses, left at the scene at Corgary Road, were removed.
PSNI Chief Inspector Andy Lemon said: "We are investigating this as a hate incident and have seized the poster.
"Incidents of this kind do nothing for community harmony in the area, indeed I believe the vast majority of people in and around Castlederg will be appalled by what has happened."
Robert Oliver, of the Traditional Unionist Voice party, said: "The two people murdered by the IRA that day had been bridesmaid and best man at the wedding of Heather Kerrigan's brother-in-law Tom Loughlin, who was murdered by the IRA a few months earlier," he said.
"A few poppies and memorial crosses were placed at the scene on Monday, a hymn was played by the band members and a prayer offered.
"After that the group dispersed and returned to Castlederg, where a memorial parade and service was attended by members of the loyal orders, Apprentice Boys and the UDR and RIR associations.
"Less than 24 hours later, the poppies placed on the roadside fence had been defaced, removed and replaced by a despicable board with the wording IRA 2 UDR 0.
"I have contacted the PSNI about this hate crime and hope that they will treat the matter with the seriousness it deserves."