Garth Brooks ticket refunds begin on Thursday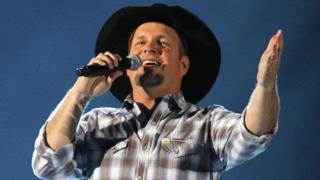 The process of refunding tickets to fans who bought tickets for Garth Brooks concerts in Dublin gets under way on Thursday.
The US country singer had planned to play for 400,000 fans at Croke Park on consecutive nights from 25-29 July.
However, Dublin City Council granted event licences for only three of the dates. The country singer said in response, he would play all five shows or none at all.
Attempts to resolve the impasse failed.
Two weeks ago, the council granted permission for only three out of the five planned concerts.
As a result, the singer's Croke Park concerts were cancelled last week and it was announced that the process of refunding customers would get under way.
On Sunday, Ticketmaster, the website that sold tickets for the gigs, said it was delaying its refund process in the hopes the concerts could still go ahead.
The attempts to try to salvage the concerts failed and the singer issued a statement on Monday confirming that none of the five Dublin shows would take place.
Fans who bought tickets over the phone, online or on their mobile, will automatically receive a refund on the ticket price plus the service charge.
Customers who bought tickets at Ticketmaster ticket centres will have to complete a refund form and either post it to Ticketmaster or return the completed form to a Ticketmaster ticket centre.
Other ways for fans to seek refunds are available on the Ticketmaster website.
On Wednesday, some of the people and organisations who were involved in attempting to stage the concerts appeared before an Irish parliament (Dáil) committee.
Promoter Peter Aiken said he stood to lose more than 1m euros as a result of the cancelled concerts.
Mr Aiken said Brooks would lose even more money and said it was wrong to say the star had been motivated by money.
Mr Aiken said he was considering legal action over Dublin City Council's decision not to grant a licence for five concerts.
The Gaelic Athletic Association (GAA), which owns Croke Park, defended its role in the controversy.
GAA director general Paraic Duffy told the Dáil committee on Wednesday that he was happy to allow Croke Park to be used, in spite of complaints from some residents, because the Garth Brooks gigs had become "an extraordinary and utterly unpredictable social phenomenon".
He said they were more than just concerts, they had become a "national event".
Mr Duffy said "the country has been let down".
He said the fact that a number of the complaints to Dublin City Council about the planned five concerts were bogus meant the decision to refuse a licence for all five concerts should have been reviewed.
Mr Duffy also said that in a phone call to Croke Park stadium director Peter McKenna, Dublin City Council Chief Executive Owen Keegan advised him that the council would support a licence application for all five concerts.
Mr McKenna, who also appeared before the committee, said he was so certain of the telephone conversation he had with Mr Keegan, he was prepared to swear an affidavit.
The council has denied this.