John Brown trial: Dana 'kept abuse claims under wraps'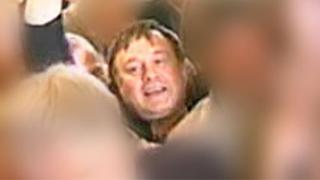 Dana told one of her brother's alleged abuse victims not to discuss her claims "any further" as the Eurovision winner would "handle it", a court has heard.
John Brown, 60, denies five counts of indecent assault against two girls.
On Thursday a court heard Dana, along with an alleged victim's mother, tried to keep the allegations under wraps.
A friend of the alleged victim told the court that the pair had discussed the alleged abuse after they became friends in the early 1990s.
The alleged abuse by Mr Brown, of Lilly Hill Road, in Bracknell, Berkshire, happened in the 1970s.
The witness said her friend told her that her mother and Dana had attempted to "bury" the claims soon after they were made.
"I think her mother believed her, but asked her to keep it from her father," she told the court.
"They kept it private and wanted to bury it. She (the alleged victim) had to keep quiet about it.
"When it (the abuse) happened she said she talked to her mother and Dana. They were together when she was telling them what happened.
"It was a decision by her mother and Dana not to discuss it any further and that they would handle it."
Accused 'had been cured'
The court heard claims earlier in the trial that Dana then sent Mr Brown to see a priest for treatment before later telling the victim and her mother he had been "cured".
The woman - the final prosecution witness at Thursday's hearing at Harrow Crown Court - earlier described what her friend had told her about the alleged abuse at the hands of Mr Brown on four occasions in the UK and USA.
"She told me she had been touched inappropriately," she told the court.
"(She seemed) very sad and angry and I could tell it was a very unpleasant memory. She had a lot of emotions."
The court was also read a statement given by the witness to police in October 2013, in which she described why she thought the allegations had been kept a secret.
She said: "They wanted to keep it quiet because it would cause too much trouble if it came out. I felt bad for her and felt shocked about what happened because I knew her parents."
Cross-examining the witness, a defence barrister said: "I can't say these conversations didn't take place - the defendant wasn't there for any of them.
"But are you sure these took place and that your close friend hasn't asked you to gild the lily about something she told you about several years ago?"
The witness denied the suggestion. The trial will continue on Friday.