County Tyrone accused 'began abuse aged seven'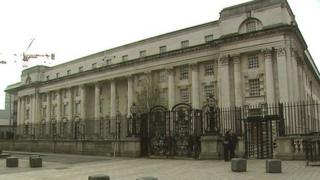 A County Tyrone man allegedly subjected his nephew to a string of sex assaults starting when he was himself aged as young as seven, a court has heard.
The accused, who cannot be named for legal reasons, molested the boy on family outings and when they stayed at the same house, it was claimed.
Details emerged as he was released on bail at a hearing at the High Court.
It was ruled he had breached conditions by being in contact with another 14-year-old boy.
Now aged 20, the accused faces eight charges of indecent assault and four counts of gross indecency against the boy.
A further charge of sexual touching relates to a schoolgirl aged under 13.
All of the alleged offences were committed between 2001 and 2008 but only disclosed to police this year.
The alleged male victim claimed the first incident happened when he was staying at the accused's home.
According to his account, he was grabbed and forcibly kissed before being chased and sexually assaulted.
Another alleged incident involved having to perform a sex act in a car during a family outing, the court heard.
Turning to the girl's complaint, prosecuting counsel said she claimed the accused touched her upper thigh when she was aged seven.
He only stopped because he heard his own father approaching the room they were in, according to her account.
The barrister added: "The applicant himself is 20, but the alleged time of offending places him around the age of 7 to 14."
Previously granted bail had been revoked over his alleged contact with a teenager earlier this year.
But a defence lawyer said he denied having gone to that boy's home and argued that there was no risk of re-offending.
"There's a six-year period between his age now and the last time any offence is alleged against him," he said. Granting the accused bail once more, Lord Justice Higgins stressed he was to have no contact with anyone accusing him of offences.