Ukraine plane crash: Dublin woman among the victims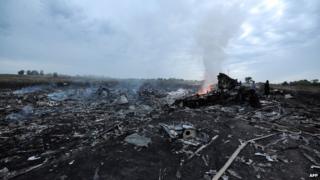 An Irish woman was among the victims who died on Malaysia Airlines flight MH17, the Irish government has said.
The death was confirmed by Irish Foreign Affairs and Trade Minister Charlie Flanagan on Friday.
It's understood Edel Mahady, who was in her 50s and originally from Dublin, was flying home to Australia.
The Boeing 777 was flying from Amsterdam to Kuala Lumpur with 298 passengers and crew on board when it crashed in eastern Ukraine on Thursday.
Each side in Ukraine's civil conflict said the other shot the jet down.
Ten British nationals were among the Dutch, Australians, Malaysians and Indonesians who died in the crash.
Ms Mahady, who was originally from Lucan in Dublin, was returning to Australia from Ireland.
'Tragic incident'
Mr Flanagan said that he had spoken to her family. He described the tragedy as overwhelming.
He said he was shocked and deeply saddened to hear of the crash of flight MH17, and the sudden loss of almost three hundred innocent lives.
"My thoughts are with the families of all those around the globe who lost their lives in this tragic incident," the minister said.
"Sadly, we have learned that one Irish-born citizen was on board the flight to Kuala Lumpur.
"On behalf of the Government and people of Ireland, I would like to convey deepest sympathies to her family, both in Ireland and in Australia, who have suffered this sudden and devastating loss.
"I spoke to her family earlier today to convey my sincere condolences. I assured them that my department is available to provide any assistance they may require over the coming days and months."