Historical Abuse Inquiry: Peter Robinson asked to retract comments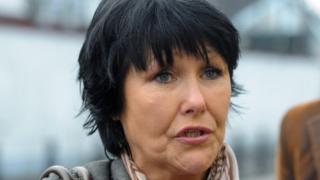 A campaigner for victims of institutional abuse has called on Peter Robinson to retract his statement that an abuse inquiry is at risk.
On Friday, the first minister said the Historical Institutional Abuse Inquiry (HIA) may have to be suspended due to a dispute over Stormont finances.
Mr Robinson accused Sinn Féin of "foot-dragging" over the latest financial monitoring round.
Campaigner Margaret McGuckin said the inquiry should not be endangered.
"I ask Peter Robinson to retract this statement," she said.
"He can think of other ways, the two parties, or all the parties up there, can come together.
"Please do not play games, silly games, with the victims. They're playing one against the other and I find it very shameful and quite abusive."
The Historical Abuse Inquiry was set up to examine the extent of child abuse in the Catholic Church and state-run institutions between 1922 to 1995.
A series of public hearings have already taken place.
On Friday, Mr Robinson said: "It would be an utter outrage if people who have waited for decades upon decades to have some opportunity, as a forum to have some justice done for the crimes that were committed against them, if that had to be suspended because politicians are not prepared to take difficult decisions about finances."
'Victims dismayed'
Sinn Féin said it had been attempting to get the DUP to agree the June monitoring round for the last two weeks.
"But this cannot be based on a unilateral DUP imposition of an arbitrary £87m in Tory cuts in a routine monitoring round. Tory cuts are a political issue that should be separated out and dealt with by the executive collectively," the party's Daithí McKay said.
"The June monitoring round can and should be agreed quickly and the money made available for the work of the Historical Institutional Abuse Inquiry and for the large number of other projects affected."
Ulster Unionist leader Mike Nesbitt said victims would be "dismayed" by Mr Robinson's comments.
"While the inquiry is dependent on monitoring funds, it is inconceivable to the Ulster Unionist Party that the Northern Ireland Executive would allow the Historical Institutional Abuse Inquiry to be wound up early for the lack of resources," he said.
"Tonight many, many victims will be unnecessarily dismayed and distressed after hearing Peter Robinson say that this outrageous suggestion is even being considered."