Belfast's Hells Angels show off wheels at custom motorbike show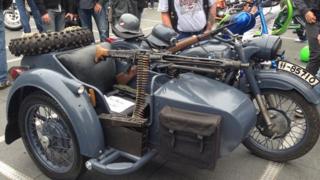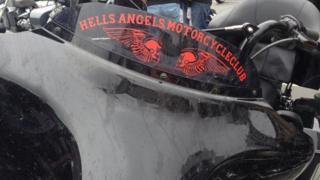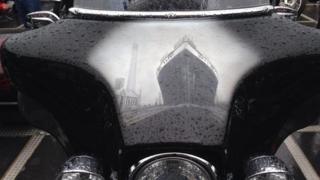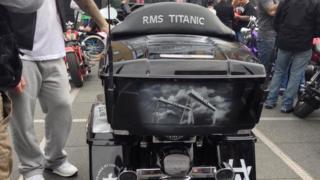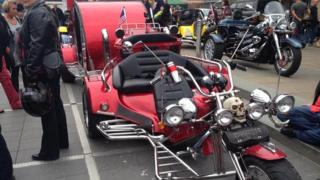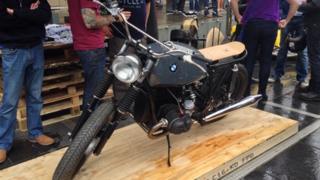 With the North West 200 every year and the successful hosting of the Giro D'Italia in May, Northern Ireland clearly has an enthusiasm for everything on two wheels.
And the love of all things fast and furious continued at Custom House Square on Saturday, as hundreds of people attended the ninth Belfast Custom Bike Show.
Harley Davidsons, choppers, rat bikes, scramblers, tripods and plenty of other uniquely-built motorbikes were on display throughout the day.
The event was organised by the Belfast chapter of the infamous motorbike club, Hells Angels, to raise money for charity and show a variety of two-wheeled wonders.
One of the organisers from the Belfast chapter of Hells Angels preferred to be introduced by his biker nickname: 'Woo'.
'Lifestyle motorcycles'
Woo said members of Hells Angels from all over the world had travelled to the show, and that a lot of time and money had gone into building their customised motorbikes.
"You have a whole range of things from old classic bikes through to custom bikes, street fighters, which are the racier sort of versions, and the choppers, the classic 'easy rider' type of thing," he said.
"We have a World War Two bike with an MG34 machine gun and pistols. I don't know if the police would be too keen on a bike like that going round town, but there are some fantastic bikes and lots that have different sort of merits, depending on what you're into."
Lifestyle seemed to be the buzz word among many of the bike enthusiasts at the show, with the aim being enjoyment rather than speed.
Gary Greenberg is one of the owners of a Belfast company that makes custom motorbikes on demand.
One of the bikes has a holding area for a surfboard and another has a seat that is made out of a skateboard.
He said: "We build lifestyle motorcycles, there's a massive world market. We sell the bikes to America, Italy, France, Spain, and we have five motorcycles going into London next week so it's a thriving business.
"It's catching on here in Northern Ireland. We're trying to create a lifestyle that goes with this type of motorcycle. We're about going to the beach with a very inexpensive motorcycle, and a basket on the side for the surfboard. It's our lifestyle - going to the beach and having barbecues - not racing around."
Gary Greenberg said "lifestyle motorbikes" are proving particularly popular with middle-aged men, whose wives are happier at the prospect of their husbands taking their bike to the beach rather than speeding along the north coast.
"A lot of middle-aged guys are interested now, you get to that 40-plus era of life and it just works," he said.
"Your wife doesn't want you going fast but doesn't mind you going shopping or to the coffee shop with your mates."
Among the prizes on offer at the event were for best engineering, best in show and best paintwork. The latter prize went to one motorbike with a Titanic theme.
'Works of art'
But it is not just custom motorbikes that have Northern Ireland bikers revving their engines.
The popular US television show Sons of Anarchy, which is centred on a motorcycle club in California, has close links to Northern Ireland.
Paul, another fellow Hells Angel, said some Northern Ireland bikers had been extras in a number of episodes.
He said: "About six of our guys ended up riding in the episodes that you see for Sons of Anarchy along the coast road. They wanted to show the Sons of Anarchy chapter riding along the road in Northern Ireland, so rather than bringing all of the cast over from America they used us as extras."
Paul said despite the time and effort spent getting some of the motorbikes to look like "works of art", it was a pity that "Northern Ireland weather doesn't really lend itself to bikes".
"Anyone who says they only ride their bike in the dry weather isn't telling the truth, it's raining again today," he said.
"Some of these bikes today look very shiny but a 10-minute ride up the road and they'll be absolutely bogging."