Colin Wallace: Any Kincora inquiry 'must have full access'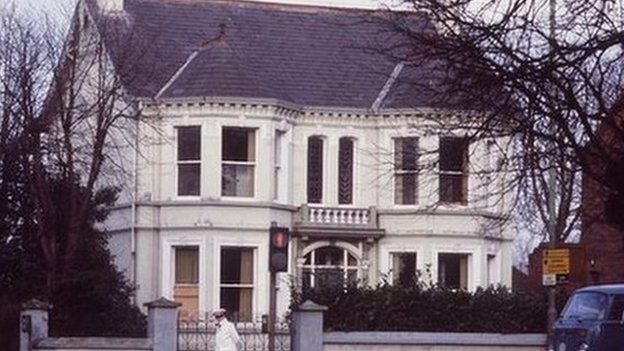 A former Army officer has said any new investigation of the Kincora Boys' Home must have access to information from intelligence agencies.
Colin Wallace tried to draw attention to sexual abuse at the east Belfast home in the 1970s.
He said if the home is included in a UK-wide investigation into abuse, then the terms of any inquiry into what happened must be widened.
In 1981, three senior care staff at the home were jailed for abusing 11 boys.
It has been claimed that people of the "highest profile" were connected.
Mr Wallace received intelligence in 1973 to say that boys were being abused, but claims some of his superiors refused to pass on the information.
"I know that some officers from the security services in Northern Ireland did know and actually reprimanded intelligence officers from raising the matter and also told them they were to desist from any further investigation," he told the BBC's Sunday Sequence programme.
Mr Wallace said two previous inquiries which looked at Kincora - the Terry Inquiry and the Hughes Inquiry - did not examine evidence relating to the intelligence services.
"My evidence, and the evidence of other people, was ruled out, because those inquiries quite clearly, and indeed, we know now specifically and deliberately, ruled out the role of the intelligence services," he said.
"The evidence that I was willing to give to previous inquiries, from the Official Secrets point of view I couldn't do that because that was not within the terms of those inquiries.
"If there is going to be any way of moving this forward, the government - and David Cameron has said no stone will be unturned - must make sure that any information, held anywhere by any agency will be made available.
"But of course the problem is, I know from my own personal experience, that those files have long since disappeared."
'Truth may never be known'
Mr Wallace said he doubted the full truth would ever be known about Kincora.
"I don't want to be pessimistic and I genuinely hope that there will be a major effort now to bring closure, now that we know more about abuses on a national scale," he said.
"But I have to say, based on my own personal experience, I really doubt that very much (that the full truth will ever be known)."
Kincora victims, politicians, former police officers and campaign groups have all called for Kincora to be included in a UK-wide investigation into abuse.
The chair of Northern Ireland's Historical Instorical Abuse Inquiry, Sir Anthony Hart, has said it "does not have sufficient powers" to investigate some of the allegations relating to Kincora.
On Friday, NI First Minister Peter Robinson said the terms of reference for the UK's abuse inquiry should include Kincora.
"I want to see a full investigation into the terrible abuses which occurred in Kincora," he said.
"Having received this communication from Sir Anthony, it is clear that the proper route to fully investigate the abuse at Kincora Boys' Home is to have it included in our United Kingdom's Child Abuse Inquiry."