Man, 44, in court over stabbing at Derry house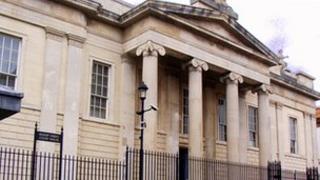 A 44-year-old man has appeared in court charged in connection with a stabbing in Londonderry.
It happened at a house in Summer Meadows Park shortly after 03:00 BST on Sunday.
Londonderry Magistrates Court was told a 43-year-old man was stabbed three times in the back during a social gathering.
John Paul O'Rourke, from Canterbury Park in the city, faces a number of charges, including attempted murder.
He is also charged with making threats to kill, attempted grievous bodily harm, assault occasioning actual bodily harm, common assault, possessing an offensive weapon in a public place and possession of an offensive weapon with intent to commit an indictable offence.
A police officer told Judge Desmond Perry, that the victim of the stabbing was currently being treated for three stab wounds, each of them 2 cm in depth, to his upper back and was in a stable condition in Altnagelvin Hospital's high dependency unit.
He said all the parties involved in the alleged incidents had been out socialising together on Saturday night.
The officer said that when the defendant arrived home he became involved in an argument with members of the group and with neighbours.
A woman who tried to restrain him and who tried to protect one of his victims by sitting on him was allegedly assaulted inside the house by the defendant.
Members of the group managed to disarm him of a kitchen knife but he allegedly continued to kick a woman on the back and kick another man three times on the head.
The row spilled out on to the street.
A police witness said the defendant armed himself with another kitchen knife, threatened to slit a mans throat from ear to ear, and head-butted another man before stabbing him three times in the upper back.
The officer said witnesses initially believed the defendant had punched his victim on the back but then they saw blood seeping from the stab wounds.
There was no bail application and the accused was remanded in custody for a video link hearing on 14 August.