Rory McIlroy: Northern Ireland celebrates Open championship glory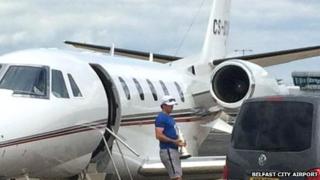 Golfer Rory McIlroy returned to Northern Ireland on Monday afternoon clutching the coveted Claret Jug.
He confirmed his place in sport's history books on Sunday after taking the Open championship at Hoylake.
Celebrations got under way on Sunday evening at his home club in Holywood, County Down, as he collected the Claret Jug in a thrilling final round.
He is only the third golfer after Tiger Woods and Jack Nicklaus to win three major tournaments by the age of 25.
"It is the one you really wanted growing up," he said.
"It has not sunk in yet. The more I keep looking at this trophy, the more it will sink in. I have really found my passion again for golf... I am looking forward to driving up Magnolia Lane next April and trying to complete the career grand slam."
Prime Minister David Cameron tweeted his congratulations moments after the win.
Northern Ireland's first and deputy first ministers said the young golfer had delivered "a golfing master class".
"Rory is an exceptionally talented golfer and with his strong work ethic, he will undoubtedly go on to achieve many more great wins in his career," said Peter Robinson and Martin McGuinness.
"Rory is a fine ambassador for Northern Ireland. We are all very proud of his achievements and hopefully he can carry this rich vein of form into the Ryder Cup at Gleneagles in September."
At his home club in Holywood, the crowd watched, roared and cheered as Rory took the trophy.
Family friend Eamon Carty said: "It was very emotional.
"When Rory was a baby, you could see the brilliance in his eyes and just how much he loved golf. He was born to be the greatest and to play golf. I put him with George Best.
"The talent is there, nobody practises harder than Rory. It is just great. We are all so happy and so proud - and so happy for his parents."
The club's honorary secretary Martin Gunning said: "Rory is just a normal guy, he blends in and says hello. He is a normal lad of 25. We are very proud of him. I remember him dreaming about winning the Open from two or three years of age. He used a plastic golf club. We knew he was a special talent. We are very proud of him."
Martin's lips are sealed about a bet he had on over Rory winning the Open - but he said he had won enough to take a holiday.
Sports Minister Carál Ní Chuilín said McIlroy was "a brilliant example of someone from this island excelling at his chosen sport at an international level".
"Throughout the tournament he has shown tremendous resilience and his sheer determination to win has paid off," he said.
Enterprise Minister Arlene Foster said Northern Ireland was in the media spotlight "for all the right reasons".
"It was wonderful to see him lift the famous Claret Jug and become the first golfer in nine years to win the Championship 'wire to wire', having led the field after every round," she said.