Dana tells court allegations against John Brown 'not true'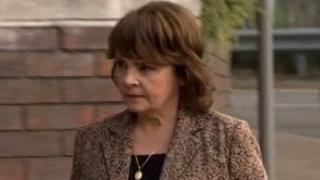 Former Eurovision winner Dana Rosemary Scallon has been giving evidence in her brother's trial at Harrow Crown Court.
John Brown, 60, from Bracknell, faces five charges of indecent assault against two young girls in the 1970s.
It has been alleged during the trial that Ms Scallon knew of the attacks and helped cover them up for over 30 years.
However, she told the jury that she had never known of any assaults and described the allegations against her brother as "absolutely not true".
The former Irish presidential candidate was giving evidence for the defence at the start of the third week of her brother's trial. She told the court the allegations against him were "lies".
'Collateral damage'
The court heard that Ms Scallon, 62, first learned of the claims against her brother in 2008 during a court battle over the ownership of a mutual business interest with one of the alleged victim's parents.
She said: "I was shocked, especially as it was brought up in a case that was completely unrelated. It was completely ridiculous."
The former Eurovision winner is also being sued by the alleged first victim and her mother, after saying during a television interview that the claims about Mr Brown were "vile and malicious lies".
In court on Monday, Ms Scallon said: "I was particularly careful about what I said, but I said it was vile and untrue lies against a member of my family.
"It was me being targeted, John was just collateral damage."
The first victim alleges she was inappropriately touched and sexually assaulted by Mr Brown on two occasions.
She claimed one of the assaults took place during a trip to Torquay to visit the singer.
Ms Scallon told the court she was never visited by the girl and only performed in Torquay in 1981, when she claimed the girl was also not present.
During cross-examination, Ms Scallon said the allegations had been leaked to the media by the first victim's family after they "decided on the story together" in 2011 to destroy her presidential election bid, following a dispute over the business interest.
Asked if there was any truth in the allegations and whether she asked him any more about them, Ms Scallon said: "Absolutely not. I didn't have to ask him anything else. I knew it wasn't true."
The prosecution accused her of deciding to keep the assaults quiet and of knowing about the allegations a long time ago.
Ms Scallon replied "I did not" to both accusations.
She has now finished giving evidence.
The trial continues.