Sinn Féin say parade inquiry call 'lopsided'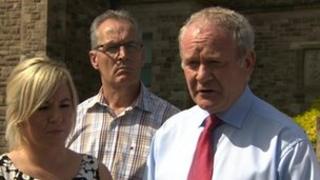 Sinn Féin have labelled an inquiry proposed by Unionist and Orange Order leaders as "lopsided".
Deputy First Minister Martin McGuinness was speaking after meeting the secretary of state on Tuesday.
Unionist leaders also met with Theresa Villiers to call for a parades inquiry to look at the issues surrounding the Orange Order's return route in north Belfast.
First Minister Peter Robinson said it was not a "one-sided approach".
The meeting included representatives of the DUP, the Ulster Unionist Party, the TUV, UKIP, the PUP, the UPRG and the Orange Order.
They are concerned about the ongoing Parades Commission ban on the return leg of a parade in north Belfast on 12 July.
The unionist group wants a time-bound commission of inquiry.
They said it could hear evidence, carry out research, talk to people, initiate dialogue and oversee dialogue.
Sinn Féin said the issue could only be resolved with the resumption of all-party round-table talks.
"We are very conscious that these issues around the whole aspect of parading, the past and how we deal with flags, symbols and identity do need to be resolved," said Mr McGuinness.
"We are speaking to you now against a backdrop of a demand from the combined unionist and loyalist parties for what they call an inquiry around the situation at Ardoyne.
"We absolutely believe in the independence and integrity of the Parades Commission.
"We're opposed to an inquiry."
Speaking after the meeting Mr Robinson said leadership was needed from the nationalist and republican community.
"It is not a unionist answer to the problem," he said.
"It is recognising that in order for there to be a resolution we need the participation of everyone.
"It does no violence to any other process. It doesn't relate to the leaders talks.
"Neither does it impinge on works of the Parades Commission."
'Big efforts'
On Thursday of last week, Theresa Villiers said she was prepared to listen carefully.
"I think that the fact that the Parades Commission, in their determination, called for a more structured process to try and bring people together in north Belfast is worth considering.
"But, I think, before I make a decision I would need to discuss it with a range of people as to what, if any, new process were to go ahead in north Belfast."
At a news conference two weeks ago, First Minister Peter Robinson read from an agreed statement from the combined unionist and Orange Order leadership calling for the Inquiry.
"This is a further part of our graduated response strategy, and follows on from our withdrawal from the leaders talks, ending contact with the so-called Parades Commission and the steps outlined by the Orange Institution," he said.
Meanwhile, residents groups in the Ardoyne area of north Belfast have called on the Orange Order to engage in talks about future marches on the Crumlin Road.