Tall Ships: Maritime race to set sail for Belfast in 2015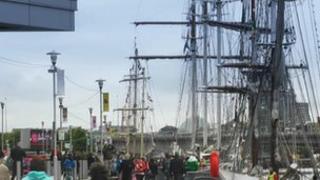 The international Tall Ships race is to start in Belfast next year, it has been announced.
On Tuesday, Belfast City Council said the city will act as the "starting post" for the Tall Ships 2015.
It said the event will be part of the Titanic Maritime Festival next July.
Belfast Tall Ships 2015 has secured backing from supermarket company Lidl. It is understood the partnership is worth around £300,000.
The last time the Tall Ships visited during a four-day Belfast Maritime Festival in 2009, a flotilla of 40 ships berthed along quays in the city.
Organisers said 500,000 people visited the event.
A further 250,000 watched the ships leave Belfast Lough and it is believed the event brought £16m to the local economy.
Kevin Grant, from the Belfast Tall Ships festival team, said the 2015 race would be an exciting "spectacle".
"2009 was a big success for the city, a real milestone for us. This time round, we're expecting somewhere in the region of 80 vessels, and about 1,000 crew members," he said.
"We've hosted a large number of fairly successful events, whether it's been MTV (awards) in 2011, the World Police and Fire Games in 2013 and the Giro has just passed us.
"I think what's important is we will get an arrival en masse of all the vessels, so I think that will be a spectacle in itself."
The Tall Ship Races 2015 will begin in Belfast before travelling to Norway and Denmark.