Ballyvesey Holdings profits hit by Scottish Coal collapse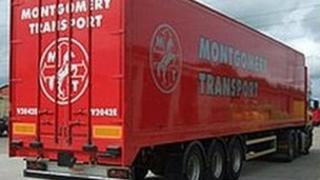 Northern Ireland's largest logistics company has said its 2013 profits were hit by the collapse of Scottish Coal.
Ballyvesey Holdings, whose best known operation is Montgomery Transport, increased its turnover to almost £500m, but pre-tax profits slipped from £5.4m to £4.3m.
The firm had provided equipment to Scottish Coal, which went into liquidation in April 2013.
It said that without exceptional items profits would have reached £5.8m.
The directors said that they finally began to see signs of recovery in the UK economy in 2013.
However, they said the recovery is "fragile" and they will continue to focus on efficiency and cost control.
During 2013, it bought two English firms, CFT Services and Birds Transport, which extended its network of depots.
The firm now employs more than 2,300 people and, in 2013, paid salaries and benefits of more than £67m.
It is controlled by the founder Harold Montgomery and his family - they received dividends of £242,000 during the year.