Young footballers in Derry to take part in Foyle Cup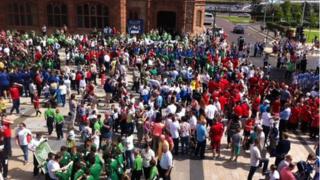 Hundreds of young footballers from all over the UK and Ireland are in Londonderry this week for the Foyle Cup.
Now in its 22nd year, the competition has attracted a record entry in 2014.
More than 200 teams are taking part in this year's event which runs until 26 July.
On Tuesday morning, all the teams participating in the tournament gathered in Ebrington Square in Derry for the opening parade.
Organiser Michael Hutton said the Foyle Cup was a "major event" in the city's calendar.
"For these kids following the World Cup, this is their world cup," he said.
"We've 220 teams from all over the UK, from all over Ireland and many of these kids are going to go on to play professional football at a very very high level."
Among the teams taking part is Norwich City Football Club.
"For us it's a chance for our guys to come over and experience tournament football, experience the atmosphere that we've got around now, to get away from their parents for a week and play competitive football," said David Coyle from Norwich City.
"The kids love it, the coaching staff love seeing the kids love it, and we're just pleased that we've been invited over again this year to try and repeat the good time that we had last year."