John Leckey in death drug dealers manslaughter call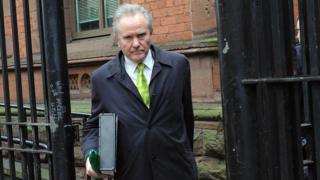 Northern Ireland's senior coroner has called for manslaughter charges to be brought against those supplying a drug linked to a number of deaths.
John Leckey was speaking at the inquest of 18-year-old Alice Devlin who died at her home in Dungannon last August.
She had taken a drug known variously as 4-4, speckled cherries or sometimes bought as ecstasy.
It is made from dimethylaminorex and mixed cathinone and has been linked to 20 deaths in Northern Ireland.
It is not confined to one particular tablet and is currently unregulated.
Last month, Mr Leckey compared the drug to a serial killer on the loose.
A detective told the inquest she believed a friend of Ms Devlin knew who had supplied the drugs, but had not told police.
Mr Leckey said: "To say I'm not impressed is an understatement. Someone is dead here and there are 19 other people dead from taking these drugs.
"Anyone who has information has a duty to come forward. It's a disgrace and it's on their conscious."
He added: "I acknowledge the difficulties for the police to link evidence, but I urge the PPS to consider manslaughter very much to the fore in these instances.
He said anyone taking these pills was "playing Russian roulette with their life".
"I hope this sends out a warning to young people," he said.
"No guarantee comes with the drugs and the risk of death is a high one."
The DUP MLA Lord Morrow said he backed Mr Leckey's calls for manslaughter charges to be considered.
He said: "Whilst I accept police need evidence for such a prosecution, I do not accept enough is being done to have those who know who is responsible made amenable.
"Mr Leckey's apt analogy of 'playing Russian roulette' every time one of these pills are taken, needs to be rigorously driven home. The stakes are just too high when gambling with a life.
"It's time to get real. People have died and families have been thrown into unimaginable grief. More people are going to die if action isn't taken as a matter of urgency."