Rory McIlroy: Open champion welcomed to Stormont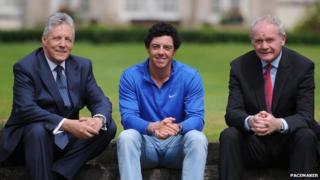 Rory McIlroy, the new Open golf champion, has been congratulated by First and Deputy First Ministers Peter Robinson and Martin McGuinness.
The Holywood golfer, however, arrived without the famous silver Claret Jug trophy, joking that it "needed cleaning after last night".
After welcoming him to Stormont, Mr Robinson had a word of advice for punters.
He told onlookers to "get their money on now" for more McIlroy victories.
The County Down man lifted his first Open trophy after leading some of the world's top golfers for all four days of the competition at the Hoylake course near Liverpool.
He is only the third golfer after Tiger Woods and Jack Nicklaus to win three major tournaments by the age of 25.
Looking relaxed and unfazed, McIlroy said: "I'm obviously very proud and honoured to come back home as an Open champion and to be congratulated everyone.
"I'm very proud to be from Northern Ireland, I'm very proud of where I come from. I will never lose touch with that, I will never lose sight of that. I will never forget where I come from.
"To be able to share these sort of moments with people from back home and close friends and family, it's absolutely wonderful.
"I'm sorry that I don't have the Claret Jug with me. It's not going everywhere with me. It actually needs a bit of a clean after last night. It's an amazing trophy and obviously something that I'm obviously very proud of and hopefully there's many more to come."
The golfer was pictured on a night out with friends in Belfast on Monday night.
Peter Robinson said Rory had come to Stormont three years ago with his first major trophy.
"On this occasion, he has won the most important of all, the Open, and is on his way go getting the full collection, after he succeeds in getting the Masters," he said.
"If you are a gambler, get your money on now and get the right odds for it.
"We are really proud of him, not only in terms of the achievement of a fantastic golfing career and the competitions that he has won, but he's a tremendous ambassador for Northern Ireland."
Martin McGuinness said he wanted to congratulate McIlroy on the "magnificent achievement" of winning the Open.
"It's been absolutely a huge buzz for all of us," he said.
"We are living in a world now where there is an awful lot of sadness.
"This just brings so much happiness and joy to all of use that one of our own is seen to be one of the greatest golfers in the world today - no mean achievement by the age of 25.
"Congratulations Rory. We are very proud of you and long may your success continue."