Old Mill damaged in fire in Crumlin, County Antrim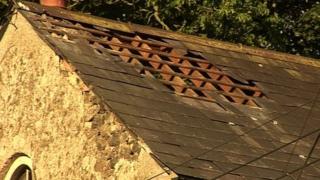 The Old Mill building in Crumlin, County Antrim, has been damaged in a fire.
It happened on Saturday night at about 21:30 BST and caused extensive damage to the landmark building, which is located on the Mill Road.
Police said they wanted to speak to three males who were seen running away from the mill, shortly after the fire broke out.
The exact cause of the blaze has yet to be determined.
It is believed the fire started on the ground floor and spread throughout the building.
Local councillor Thomas Burns said he was "terribly disappointed" that the mill had been so badly damaged.
He said: "This is a very historical old mill, the likes of this cannot be put back together again.
"That's the awful, awful thing. It's going to take so much to repair it, or will it eventually have to be demolished?"
Mr Burns said the mill had "tremendous historical value".
"Crumlin was built all around the mill, it was the (town's) focal point," he said.
"Although the mill has been closed down now for several years, it's still very much regarded."
'Devastated'
Crumlin historian Rodney Mayres said around 200 workers used to make their way to the Old Mill every day.
He said: "(It) was very important to the locality back in the early 50s and 60s. This was a thriving woollen mill, and employed a lot of people from Crumlin, Glenavy and Nutts Corner.
"People relied on the mill for employment."
Mr Mayres said his grandfather had worked in the mill for most of his life.
"The end of the 50s into the 60s would have been the glory days, and the mill would have been thriving in those days," he said.
"My grandfather worked here as a carpenter back in its heyday. He was employed until he was 70 years of age.
"(Now) you just look inside it and you're devastated in remembering what it used to be like when it was a working mill."