Parades Commission permission for wedding march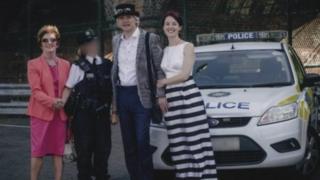 As if there isn't enough to organise for the big day.
Inviting guests, getting the perfect dress, finding a venue and organising a honeymoon. Stressful, but all perfectly normal for a summer wedding.
But for one wedding in south Belfast in June there was a little bit more planning needed from the bride's mother.
Mary Cormacain had to apply to the Parades Commission for permission for her daughter's wedding party to walk to the railway station in Finaghy.
The Parades Commission is the organisation set up by the government to resolve disputes caused by contentious marches in Northern Ireland.
Mary filled in a form detailing the plans for the big day and then when it arrived the just-married couple were treated to a police escort as they made the short walk to the station after the service in Mary's house.
It all came about because of the venue that Meabh Cormacain and her new husband Paul Webster decided on.
"It just seemed like the easiest thing," said Meabh.
"We decided we wanted to get married in my mum and dad's house. Given that the party later on was going to be in the Empire [a Belfast pub] the quickest way to get between the two was the train."
Once the plan was put in place it was back to Mary to make sure everything went off without a hitch.
"One day I was pottering about the house and I thought that it could be constituted as a parade. I was slightly apprehensive the bride and groom might be apprehended on the day of their wedding," said Mary.
"So I phoned our community police officer. He came back to me and said 'my sergeant thinks you should apply to the Parades Commission'.
"So I filled the form in. I had to tell them the road, how many pipers there were going to be, things like that.
"I had to bring it down to Lisburn Road police station and hand it in to the sergeant on duty. He signed it off and said 'that's fine'."
Alternative route
But what if the wedding march had been banned?
"We would had to have found an alternative route. We are law-abiding citizens in Finaghy!"
And when the wedding party set off from Mary's house for the 10-minute walk to the station they were surprised to find a police escort waiting on them.
Two police officers stopped the traffic as the guests, family and friends crossed the road, accompanied by a single piper.
It was the little extra detail that made the day just perfect for Meabh.
"When my mum told us we might have to apply to the Parades Commission I just made everything that little bit more exciting," she said.
"It was so lovely to have our family and friends with us. It just added that extra little frisson to have the police accompanying us to the train."