Gaza conflict: Northern Ireland health workers stage protest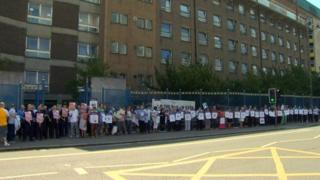 A protest against the impact of conflict on medical staff in Gaza has taken place outside the Royal Victoria Hospital in Belfast.
More than 100 people took part in the protest by union members from Unison's Northern Ireland health service group.
The union said health workers in Gaza were "on the front line" and were "struggling with death and injury in dangerously unsafe conditions".
More than 800 Palestinians and 35 Israelis have been killed in 18 days.
Dominic Murray from Unison, who attended the Belfast demonstration, said hospitals in Gaza have run out of equipment and anaesthetic to treat the injured.
'Treatment of civilians'
On Tuesday, at least five people were killed and 70 injured by an Israeli strike on a hospital in the central Gaza Strip.
Doctors at the Al-Aqsa Hospital in Deir al-Balah said several Israeli tank shells hit the hospital's reception, intensive care unit and operating theatres.
Most of the wounded were doctors, according to Palestinian officials.
The Israeli army said it had "successfully targeted" a cache of anti-tank missiles in the area.
It added that civilian casualties were a "tragic inevitability of [Hamas'] brutal and systematic exploitation of homes, hospitals and mosques in Gaza".
In a meeting that day, Unison's Northern Ireland Health Service group said it was alarmed at what it described as "the apparent reckless inclusion of hospital and clinical locations in the targeted bombardment by Israeli forces in Gaza".
"We are deeply worried that standards of human decency and international obligations on the treatment of civilians are slipping," the union members' statement said.
They called on all categories of health care staff to step out at their workplaces on Friday in protest, to express "simple messages of humanitarian concern".
"We do not believe we can stay silent on this," the union said.